What's
Happening
Hozier - De Selby (Part 2) Starring Domhnall Gleeson
MOSH - Dublin Fringe Festival
This Solution - Dublin Theatre Festival 2023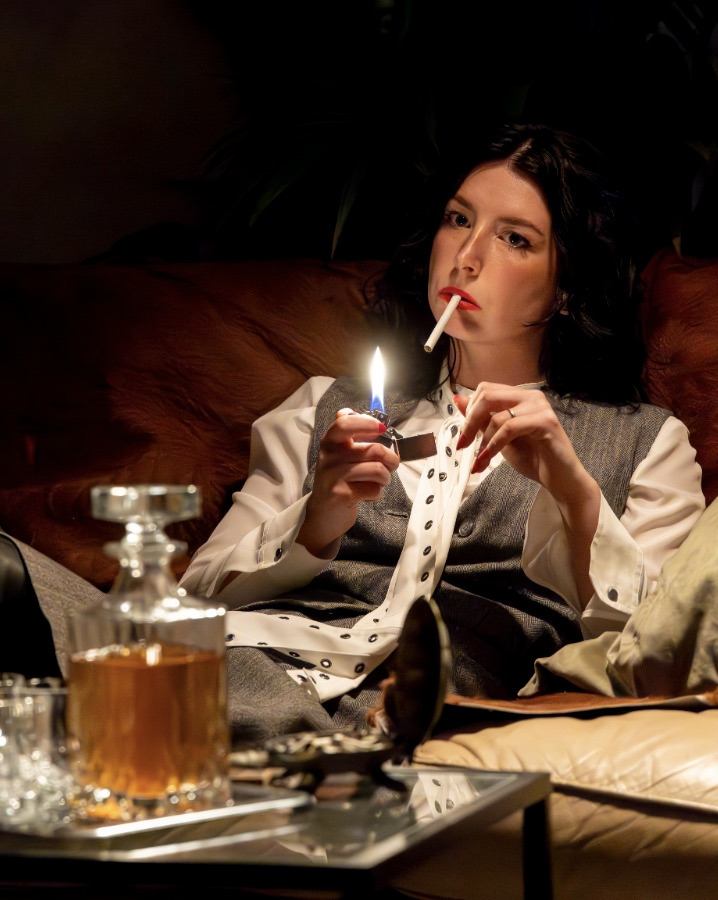 Soda Blonde - Bad Machine

Dream Factory Work In Progress - Lords of Strut and Jennifer Jennings
Balor Hall - Ríoghnach Ní Ghríoghair
Hard Rain - Rachel Donnelly, José Miguel Jiménez & Liv O'Donoghue
An Encounter - Kelly Campbell
Party Scene - Philip Connaughton & Phillip McMahon
Privilege: The Musical! - Louise White
Privilege: The Musical! is a glittering, soul searching look at power and inequality, the most ambitious show to date from award-winning theatre maker Louise White.

Starring a gender bending, intersectional, fire-cracking cast of Jade O'Connor, Venus Patel, Stephen Quinn, & Ashley Xie, with musical composition from Matt Regan and cello performance by Lioba Petrie.
Dublin International Film Festival Aer Lingus Discovery Award Nominees
Interview - District Magazine
Sauce - Ciara Elizabeth Smyth

A New Comedy from Award-Winning Playwright, Ciara Elizabeth Smyth

Starring Clodagh Mooney Duggan and Camille Lucy Ross
Directed by Jeda de Brí

Mella is a compulsive liar.
Maura is a kleptomaniac.
Unsurprisingly, neither has any friends.

Fresh out of controlling relationships, both women are thrust into uneasy freedom. Can they overcome their flaws and shed their inhibitions to avoid dying alone? Or will their compulsions engulf them in the end?

A new dark comedy about monsters, condiments and dancing.

Lots of dancing.






An Encounter - Mark O'Halloran
Directed by Kelly Campbell

Produced by Claire Mc Cabe

An Encounter follows Stephen and Jay (13), as they take a day mitching from school. They meet a stranger on the Irishtown shore. What unfolds with this man terrifies Stephen and will never be erased from his memory.

Winner of the Academy Award qualifying Grand Prix at Cork International Film Festival 2021 and Best Irish Short at the Dublin International Film Festival





Don't Go Where I Can't Find You - Rioghnach Ní Ghrioghair

Straight to Video - Emmet Kirwan
A New Play by Emmet Kirwan

Directed by Phillip Mc Mahon

Set in the mid-90s, a turbulent period in Tallaght's social history, against the backdrop of the Drugs Out marches, Straight to Video is a biting new comedy written by, and starring, Emmet Kirwan.

A buzzing ensemble comedy with a huge heaving heart featuring a stellar cast, it promises to be a thought-provoking night full of belly laughs and a real tonic for audiences returning to live theatre.

Presented by Landmark Productions
in association with The Civic and Project Arts Centre. Straight to Video is made possible through Landmark's Arts Grant Funding from The Arts Council.






Masterclass - Brokentalkers & Adrienne Truscott

'No one enjoys being equal' - David Mamet

Blending the fearless and savagely comedic feminist discourse of Adrienne Truscott with the subversive and slippery dramaturgy of Brokentalkers to parody the "great male artist" to within an inch of his life.

The show begins in the form of a cockamamie masterclass performed by fed up feminist Adrienne Truscott and all around good guy Feidlim Cannon. It's fun. It's familiar. There are wigs. But there is something more at play…

Co-produced by Dublin Fringe Festival, Project Arts Centre & Mermaid Arts Centre
Funded by the Arts Council / An Chomhairle Ealaíon. Developed at FRINGE LAB

You're Still Here - Murmuration

You're Still Here - Murmuration


Murmuration returns with You're Still Here, their third show after Will I See You There and Summertime. Created in collaboration across three countries, You're Still Here uses an intimate, intricate textual score, to explore togetherness, estrangement and what we owe to one another.

A Dublin Fringe Festival Commission. Co-presented by Dublin Fringe Festival and the Abbey Theatre
Funded by the Arts Council / An Chomhairle Ealaíon. Supported by Dublin City Council. In conjunction with The Office of Public Works and Dublin Castle. Developed at FRINGE LAB, with support from St John's Theatre & Arts Centre


Rescue Annie - Lauren Shannon Jones & Eoghan Carrick

A live show about a dead woman.

Outside the Louvre in Paris, a woman's face is taken without permission. It becomes more famous than she ever was. You've seen her without realising who she is. You might have even kissed her.

This new live theatre performance explores the twin human obsessions of intimacy and autonomy in a show that begins in an intimacy coordination workshop and ends with an out-of-body experience.

Part of DUETS, an artist support initiative made with the combined expertise of Irish Theatre Institute, Fishamble: The New Play Company and Dublin Fringe Festival.
Funded by the Arts Council / An Chomhairle Ealaíon. Produced by Once Off Productions. Supported by The Digital Hub, Official Digital Partner of Dublin Fringe Festival


A Hard Rain Fell - Liv O'Donoghue

A Hard Rain Fell is a new short film written by Rachel Donnelly and directed by Liv O'Donoghue. Excerpts from the film will be shown as part of Liz Roche Company's Alternately Terrific and Gentle online December 13th 2020. The film will then premiere in 2021.


So close I noticed my breath on the glass - Murmuration


so close i noticed my breath on the glass is an intimate audio show for a shopping centre as Christmas approaches. Audiences are invited to put on headphones and drown out the noise of the crowd around them as they follow in the footsteps of Dad and Sorcha from shop window to shop window. A show about imagination, shop mannequins and parents trying their best.

Presented with support from Corcadorca and Bewley's Café Theatre.